Cheap Fares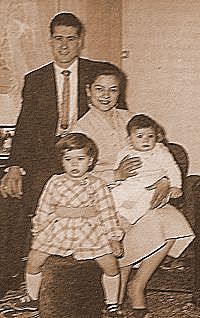 The Bayliss family
Etablishing a direct line of shipping between a and the receiving countries was a major achievement. Improving the standards of accommodation on migrant ships was also a significant objective. The third and very important hurdle was to make travelling financially possible for intending emigrants who normally could not pay standard fares, especially when they had to ravel with members of their families. A number of those who wished to settle overseas were either unemployed or else threatened with losing their jobs, and these had little cash to spare. They did not wish to spend their savings on buying tickets. The problem of financing emigration was an old one. The funds bequeathed by Vincenzo Bugeja (1820-1890) and G.N. Pappaffy (1792-1886) had helped a selected number of applicants, but the money from these funds could never reach the masses. (20)
In the 1930's a loan scheme was launched for prospective emigrants to Australia. These had to prove that they were unemployed and had no other means to pay their fares. A Selection Board was empowered to lend money from £7 to £30 to applicants. In 1939 grants were given to families with close relatives already living in Australia. These grants then amounted to the sum of £774. (21)
In 1947 the Council of Government was corresponding with the Government of Australia about a scheme that would provide financial assistance to all intending emigrants. In April of that year a provisional agreement was reached with Australia. On October 6, 1947, an unofficial statement released by the Malta Prospective
Emigrants Association said that after the visit by Mr J. Axisa to Canberra, it had transpired that the Australian Government was about to release the sum of £,97,500 to be used as financial assistance to emigrants from Malta. (22)
A telegram from Capt. H. Curmi sent to Mr J Cole on May 31, 1948, stated that Mr Calwell had informed the Maltese Commissioner that Australia welcomed emigrants from Malta. On that same day the Assisted Passage Scheme was signed in Melbourne. It was Mr Calwell's intention that the actual day of operation of the Assisted Passage Scheme should be January 1, 1949, and this was to be considered as a New Year gift from Australia to the people of Malta.
The Maltese Government was bound to contribute the sum of £100,000 in financial aid to those who applied to emigrate to Australia. (23) The agreement of A.P.S. was renewable every two years. In its first operative year, 1949, the number of those going to Australia and benefited through the agreement amounted to 3,128. The combined contributions of Malta and Australia rose to the tune of £155,564. (24)
A set of conditions had to be satisfied before an applicant was accepted as being able to benefit for assistance. The applicant had to be Maltese resident in Malta or else had been resident in Malta for a period not less than seven years continuously. This proviso excluded those foreign-born Maltese residing in other countries even if they had a British passport. The applicant had to satisfy the selectors that he was considered adaptable to life and work in Australia. If the applicant was over the age of sixty he was considered as too old. Adults were to pay £l0 while those in the age bracket between fourteen and nineteen were to pay f 5. Younger people travelled free. Such concessions were made provided the original fare did not cost more than £20. An approved migrant was bound to remain for a minimum of two years. If he broke that condition he was expected to pay the balance due.
By 1955 the Maltese Government was paying allowances to families which had stayed behind while their bread winner had gone abroad. Migrants who or two dependents at home were allowed £ 20 while those with three dependents or £30. Allowances were spread over a six weeks, the first payment was usually given one week after the breadwinner had left. This system operated in favour of migrant families whose breawinner had emigrated to either Australia or Canada who stayed in one of these countries more than two years. (25)
The Maltese Government's budget for 1953-54 envisaged an expenditure of £200,000 a year in order to bolster the migratory movement. The Government had promised to contributetwo-thirds of that sum. The money was to be spent on providing financial assistance to prospective emigrants with families and also to give social backing to those migrants already settled in the countries. Grants to nominated emigrants bound for Australia were to be increased to £60. This meant that in most cases an intending migrant received financial assistance would only have to fork out the nominal sum of £10. It was also proposed to provide a special gratuity of up to £.20 to Government employees who contemplated giving up their job in order to emigrate. (26)
In 1954 the Maltese Government was faced with embarrassing situation when it had on its hands the sum of £475,000 which it had failed to spend previous budget. Permission was sought from London to put that sum to an alternative use, namely ,to help subsidise the emigration programme for that year. Not only did the British authorities agree to that but another £227,000 were added to help migrants married with families or even if they were if the migrant was single, whether male or female, and was the sole breadwinner in the family, she would be granted an allowance subject to examination and approval by the Emigration lance Board.
An important aspect of the emigration plan for 1954 was that it tried to help those emigrants who for one reason or another had returned home. Not a few of these wished to try again - some had been forced to return because of family problems or pressures - but these were refused financial assistance because the selectors considered them unstable and therefore unlikely to settle permanently in a foreign country. Eventually help was offered to those who had never been Helped before, provided that a period of not less than nine months had elapsed since they had returned. Those who had already been assisted once before and had refunded the money they had owed to the government, were also to be given a second chance. (27)
In the early sixties financial aid to emigrants became more substantial. The Australian Government agreed to contribute £35 per person which in 1963 amounted to the sum of £50,000. The U.S. Government channelled aid through the Inter-Governmental Committee for European Migration and so did the U.K. Government. Malta became member of I.C.E.M . at the end of 1962. Ships and airplanes provided by I.C.E.M. for European migration made the process of migration from Malta more effective. As from December 1, 1965, the U.S. authorities lifted for the first time all restrictions on financial assistance to migrants. This move helped eighty-four prospective migrants from Malta who were thus enabled to accept financial help from the Maltese side. (28)
On November 8, 1955, the one millionth postwar immigrant landed at Port Melbourne. By then the number of Maltese emigrants to Australia had been close to 32,000 or one-tenth of the Maltese population.
On February 9, 1960, Mr Alfred Bayliss, his wife Aida and their two daughters Diana and Christine made emigration history. Mr Bayliss became the 25,000th assisted emigrant since the assisted Passage Scheme came into operation. When the day of their departure arrived, a car was provided for all the members of the Bayliss family to take them to the quay. They went on board the waiting ship Flaminia which was to take 251 emigrants. The Bayliss family was welcomed on board by Captain Quartini, by Archbishop M. Gonzi, by Mr R. Harris, Chief Migration Officer at the Australian Embassy in Rome, by Mr A.R. Driver, Chief of Operations of I.C.E.M. in Geneva and by Mr J. Axisa, Director of Emigration. Later in the month, Mr Axisa went to Australia to take part in the official welcome given to the Bayliss family.
On March 11, Mr and Mrs Bayliss were invited to a luncheon given by Mr Downer in Canberra. Captain G.F. Stivala, Commissioner for Malta, was also present. On that occasion Mr Downer said:
"We are delighted to have you here as a family, and I am sure it is the wish of all of us that you find material prosperity, personal happiness and an inner peace of mind in this new land. Although we are commemorating a milestone, it is more than that. We are far from the end of the story of Maltese settlement here. As Australia develops and prospers, so will our immigration programme continue and Malta can always count upon its share in the evolution of our nation. Malta and Australia are members of the greatest of all families, the British Commonwealth. This is an association that Australians of all political parties hold uppermost in their hearts". (29)
Source: The Safety Valve (1997), author Fr Lawrence E. Attard, Publishers Enterprises Group (PEG) Ltd, ISBN 99909-0-081-7