Flames on the Skaubryn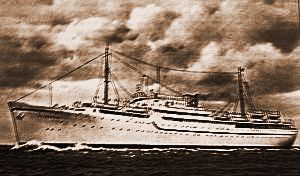 The Skaubryn
The story of the Maltese bound for Australia on board the Norweviann ship Skaubryn occupies a unique place since it was the only occasion when a number of emigrants were for a time in great danger.
This ship was built in 1951 and made six between Malta and Australia from 1952 to her journey in 1958. On that fateful journey the ship carried 169 passengers from Malta while in all she had on her 1,082 passengers with 208 members of the crew. Among the passengers were 200 children and 40 babies. The Maltese had their own chaplain with them, Fr S. Tabone from Kalkara. He was going to visit his two brothers who had left Malta eight years before. The Skaubryn left Grand Harbour on March 22, 1958, and after a short stop at Port Said the ship passed Aden to enter the vastness of the Indian Ocean. That ocean was incredibly calm and the ship continued on her way in a very relaxed atmosphere.
On Monday, March 31, captain Alf Haakon Feste ordered his crew and passengers to meet on deck at 2.30 pm for an emergency drill. Some of the people on board complained at this interference as they preferred their siesta at that time. Once the drill was over some of the passengers went to the hall where a band was playing with a few dancers on the floor. It was very calm and very hot. As darkness fell many went to their cabins for the night's sleep. All one could hear was the regular humming of the ship's engines.
Fr Tabone decided that he too needed a good sleep because he had to be up by 5.00 am. But suddenly the lights in his cabin dimmed and then there was complete darkness. The priest could hear people moving excitedly. His first thought was that some passengers had decided to go on deck to watch the Soviet satellite Sputnik as they had been told that there was a good chance of seeing the satellite from their position in the ocean.
The reason for the commotion was that.the engine room was on fire. According to the report given by Captain Feste the fire was caused by a misunderstanding between two members of the crew when they caused oil from an open line in the engine room to spurt on hot exhaust pipes. In a very short time all passengers on board were told which lifeboats they had to take. This efficiency saved the lives of all concerned except for an elderly German who died of a heart attack. The ocean remained mercifully calm.
Luckily the merchant ship City of Sydney happened to be nearby and she picked all the passengers. From,. her decks the migrants could watch with awe their own Skaubryn being devoured by the flames. It was April 1. The City of Sydney had accommodation for only thirty passengers. Messages for for help were sent to any possible vessel that happened to be near area. The luxury liner Roma under captain Nimira, picked the messages and was soon near the City of Sydney. The Roma was on her return journey from Australia to Italy. (16)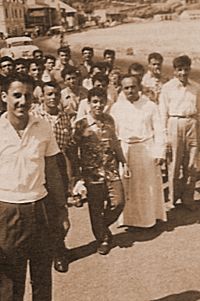 Maltese survivors in Aden, April 1958
Fr Tabone remembered everything in detail. "All of us were taken on board the Italian luxury vessel. The crew fed us and gave us new clothes. Some of the passengers gave their own cabins to those of us who were in need of rest. The Roma took us to Aden where we disembarked on Good Friday. We in Aden for three days and the local authorities treated us very kindly. We were given £10 as pocket money. In Aden we knew that our relatives in Malta and in Australia had been told what had happened to us.
A Maltese bride, Evellina Vassallo, was going to Australia to get married. She lost everything including her cherished wedding dress. After three days we were taken by the Orsova to continue our journey to Australia. When we arrived at Freemantle we were met by the local authorities and by the Maltese Commissioner who stayed with us until we reached Melbourne. The Commissioner offered us. £5O each in the name of the Government of Malta. Those who were in the age group between fourteen to twenty were given £25 each and £10 were given to all youngsters under the age of fourteen years". (17) While on the Orsova the survivors received a telegram from Mr A.R. Downer, Minister for Immigration in Canberra. It said:
"On behalf of the Government and the People, I welcome you to Australia. We sympathise with you in your loss and congratulate you on your safe deliverance. In Australia you will find friends anxious to help you settle happily. I look forward personally to greet you on your arrival in Melbourne. 17th Aprl 1958."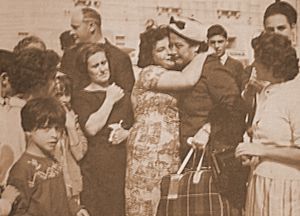 Migrants leaving on the Roma, October 1965
More financial backing was forthcoming. The Australian Government gave £A 20,000 in compensation, while philanthropic bodies such as the Australia Red Cross and the St Vincent de Paule Society dontated monthe and clothes. (18)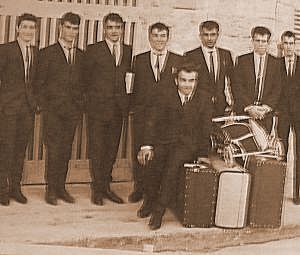 Young migrants ready to board the Achille Lauro, February 1969
Echoes of the Skaubryn Saga were heard thirty-six years later when another passenger ship met the same fate as the Skaubryn in the Indian Ocean. The Achille Lauro had carried hundreds of Maltese emigrants to Australia in the twenty-five trips she had done in a period of five years between April 1966 and November 1971. In later years the Achille Lauro and became a popular luxury liner On October 7, 1985, she was on the international news when she was hijacked by four Palistinian guerrillas. Nine years later, on November 30, 1994, the same liner was on a cruise on the IndianOcean when a disastrous fire broke out and was soon out of any control. On board were a thousand tourists. All were saved except three. She burned for two days when she finally wend down in an area not far from where the Skaubryn had sank in 1958. (19)
Source: The Safety Valve (1997), author Fr Lawrence E. Attard, Publishers Enterprises Group (PEG) Ltd, ISBN 99909-0-081-7