Ships on Charter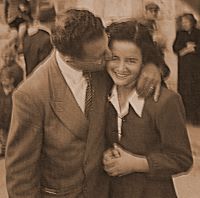 The final adieu, November 1950
Regular shipping for migrants to Australia really began in April 1948 when the Asturias left Malta ,on April 23. In fact she had made a previous trip, on November 20, 1947, when one hundred emigrants had left on her, but many of them were returning emigrants who had paid anything from £58 to £80 to get as far as Melbourne. However from April 1948 to August 1952 the Asturias made fifteen trips to Australia thus earning for herself the sixth place among those ships which made most trips from Malta to Australia. The undisputed primacy goes to the aptly named Sydney which between December 15, 1951, and February 13, 1966, made thirty-nine trips between Malta and Australia. When the Columbia carried on her 1,075 migrants, that was considered then as the largest group ever carried to Australia in one voyage. The Columbia left on November 21, 1949. On that day Mr Cole expressed his obvious satisfaction at practically solving the problem of providing a reliable shipping service for emigrants. (7)
This is not to say that Mr Cole had solved the shipping problem to the satisfaction of everybody. While it was true that the Maltese Government had successfully obtained enough ships to carry those who wished to emigrate, there were complaints about some ships and about their sea worthiness and the kind of accommodation provided on board. Complaints appeared in the Maltese press about the Columbia. Although during question time in the Legislative Assembly Mr Cole had stated that the Columbia's trip was normal he did admit that during her journey three babies, only a few months old,had died at sea. (8)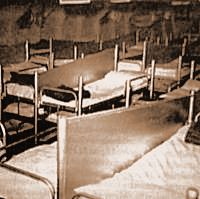 A section of the dormitories on board the Florentia
On April 26, 1949, the ship called Misr took to Australia seven hundred Maltese passengers. The ship had been built in the U.S.A. only six years before and was now owned by the Soc. Misr de Navigation Maritime of Alexandria, Egypt. In 1947 the Misr had embarked on her first voyage to Australia carrying on board a number of passengers who had originated from the Middle East. When the Maltese arrived on the Misr and disembarked first in Melbourne then in Sydney, some sections of the Australian Press had taken them for Levantines. Once on dry land the Maltese themselves complained about the accommodation they had been given in common dormitories. Complaints reached Malta about the ship Ocean Victory which had left on February 26, 1950. On her were 1,024 emigrants and these included forty-two babies, one hundred and sixty children between the ages of one and five years, and one hundred and eighteen between five and eleven years. Three qualified nurses were in charge of the child n. Labour representatives in the Legislative Assembly asked for a discussion on the accommodation provided on some of the ships being chartered by Mr Cole's department.
Labour politician, Mr N. Laiviera, claimed that he had received letters from emigrants he knew who had bitterly complained about conditions on board the Ocean Victoyy. Mr Laiviera did admit that better accommodation meant more expensive fares. His colleague, Mr D. Mintoff, wanted to know if there was any truth in the rumour that a child had died. (9) Mr Mintoff quoted from the Australian newspaper, The Daily Telegraph ofapril 3, 1950, which said that customs officials had described the Ocean Victory as a hell-ship. The captain himself admitted that a baby boy of ten months had died and so did another of sixteen months. Many of the passengers claimed they had suffered from dysentery while their linen was changed only once. Mr Anthony Cassar said that rain seeped into their sleeping quarters and Mrs Mary Grech, a mother with three girls and a boy, said that they lived on boiled potatoes and spaghetti. (10)
Complaints were also raised about the ship Florentia which made three trips from Malta to Australia between December 15, 1950, and August 21, 1951. She had been built in Dunbarton, Scotland, in 1914. Some of those who travelled on t e ren felt that the ship was not fit to cross the Indian Ocean, especially between May and September when the monsoons were likely to occur. One particular trip created quite a stir. The Florentia was expected in Grand Harbour, Valletta, on April. She was to carry 1,039 passengers but these were kept waiting for a number of days until she finally made port eleven days later.
The trip to Australia was uneventful, but chaos was let loose when she finally berthed at North Wharf, Melbourne, on May 31. Many relatives had been anxiously waiting for a very long time and tempers were short. On disembarking, one immigrant decided to run towards his relatives while his luggage was still being inspected by immigration officials. He was soon caught, but other waiting relatives and friends joined the fray. In the fracas that ensued three immigration officials were hurt and so were two Maltese. Five were arrested. One was accused of causing bodily to an immigration official while the other cases deferred.
An official comment from the Maltese Department of Emigration said about the incident "The man in question was only trying to kiss his mother before customs formalities had been finished. He had been already warned to wait, but he insisted on rushing to his mother. The other Maltese were all waiting on the quay. None of the arriving immigrants were involved".
It was obvious that the Maltese Government could not ignore the criticism in Malta and abroad about some of the chartered ships, particularly the Ocean Victory and the Ocean Triumph.. that if the decision to hire both ships had been solely on his own he would have never decided in favour of were made to him during the voyage. He had sent a telegram to Malta expressing his favourable impression about the behaviour of the Maltese and that he thought that they would make good settlers. (11)
Source: The Safety Valve (1997), author Fr Lawrence E. Attard, Publishers Enterprises Group (PEG) Ltd, ISBN 99909-0-081-7